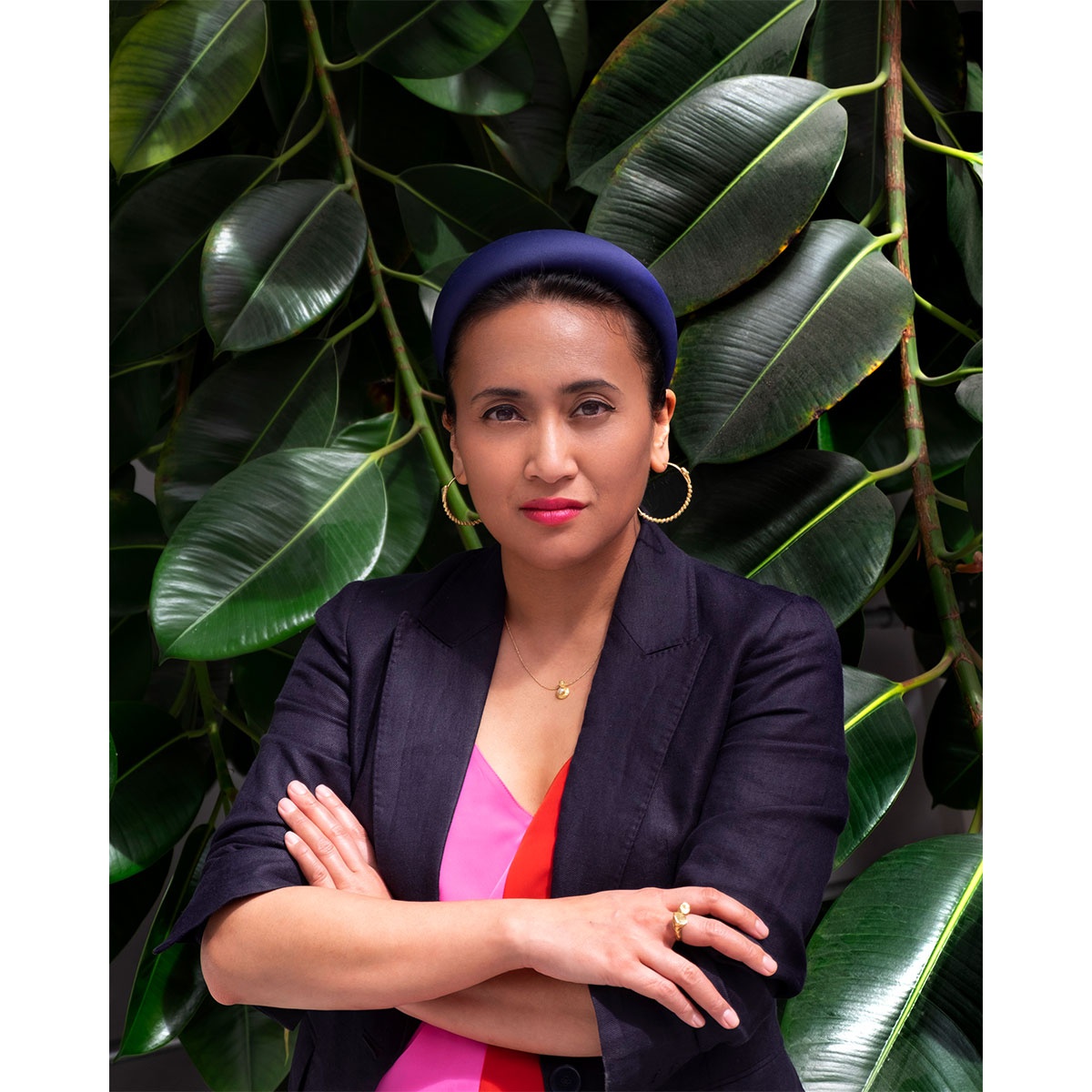 Artist Sinta Tantra (b.1979) is known for her colourful large scale public artworks and geometric paintings. Living and working in between her two studios in London and Bali, Tantra's artwork occupies multiple dimensions and scales. Her canvas shifts comfortably from a bridge slicing through the urban skyline to a stretched linen frame produced within the intimate setting of her studio – each artwork is an abstract blueprint for her utopian aspirations.
Born in New York to Balinese parents, Tantra grew up in London and studied art at the Slade School of Fine Art (2003) and at the Royal Academy Schools (2006). Within her work, motifs derive from Western movements such as Bauhaus, Art Deco, modernism and abstraction. Her Balinese identity within the post-colonial context is central to her work. The drawings of 20th century Balinese artist, architect and stone carver I Gusti Nyoman Lempad have informed explorations into two-dimensional lines and three-dimensional space. Her pop-tropical colour palette draws from the culture and environment of Bali.
Tantra's site-specific public art murals are "asymmetric-anti-patterns" that respond closely to their surroundings. She describes them as "living paintings that not only exist on a human scale – where the body can become immersed in colour – but also on a city scale, where colour breaks up the grey architectural blocks of the city."Examples of this can be seen at the Al Majaz Waterfront in Sharjah (2019), Lee Tung Avenue in Hong Kong (2018), and across a 300-metre bridge in Canary Wharf in London (2012).
In the studio, Tantra's compositions are formed of circles, semi-circles and polygons which she places on block-coloured backgrounds. Working with traditional tempera paint on exposed linen, she paints crisp lines to an almost graphic quality, referencing architectural drawings as well as Sol LeWitt's 'Conceptual Painting', which has been a major influence. Like Buckminster Fuller and Alexander Calder, who she also cites. Tantra explored the historic techniques of fresco painting as the first recipient of the Bridget Riley Drawing Fellowship at The British School at Rome in 2017. Tantra also uses sculpture to further express form, extracting and overlapping shapes in brass and glass.
Solo shows such as Modern Times at Kristin Hjellegjerde Gallery in London (2020) have seen Tantra move beyond the walls and into the architectural space, while others explore dimensionality within the canvas as seen at A House in Bali at the ISA Art Advisory in Jakarta (2017), and Flatland: A Romance of Many Dimensions at Pearl Lam Gallery in Hong Kong (2016). Her work has been included in biennials and group exhibitions exploring identity, post-colonialism and the environment such as Framer Framed (2020) in Amsterdam, Karachi Biennale (2019), Folkestone Triennial UK (2017), and Liverpool Biennial UK (2012). Tantra's work is part of the Government Art Collection, the Benetton Foundation collection and other private international collections.